Career Formula
Create an awesome & meaningful career
with purpose, passion, and freedom

Recognize this?
You want awesome work, but don't know what fits you
Your career does NOT match your high expectations
You feel rather empty, not valued & not meaningful
It pains you that you're not using your full potential
You lack a higher mission to add value to
You want to integrate passion, purpose, and growth into your work-life
A career upgrade is a must for you, not a nice to have
You are wondering if entrepreneurship is an option for you
Imagine this career...



Work is a full expression of yourself instead of being forced in a role
Feel connected to your purpose instead of working for something you don't believe in
Impact the world positively, and make a contribution with your skillset
Imagine the fulfillment, the energy, the joy, the personal & financial growth!
Skip career detours. Create an awesome & impactful career within 1 month.👇🏽
Introducing

Career Formula

🔥
✅ Self-study course | ✅ Easy to combine with work | ✅ 10 modules, 19 tools | ✅ Finish within 1 month
Deep Self-Knowledge

A complete blueprint of who you uniquely are including your passions, strengths, values, and purpose.
Work that's IT for You


Know the type of work you should be doing that makes you happy and fulfilled. No concessions.
No More
Detours

Making the right career choices, because you know yourself so radically well.

Direction & Confidence


You will be able to rely on yourself and your own plan. True confidence in your future and your unlimited potential.
BONUS 1 - Workbook worth €60,-
> An editable PDF to save all your insights & tools in.
BONUS 2 - Internal Blueprint Template worth €20,-
> Your personal compass - visualized!
BONUS 3 - Lennart's & Rachelle's Internal Blueprints worth €40,-
> Get to see our blueprints and how we found them.
BONUS 4 - Career Mindset Masterclass worth €90,-
> "Your Fear is Exciting" Masterclass to crush potential career fears & worries.
BONUS 5 - Access to Private Group worth €100,-
> For all participants to support and inspire each other on the journey of professional discovery.
BONUS 6 - Feedback on your Career Formula by Lennart & Rachelle worth €80,-
> Let your found Career Formula be checked by us.

BONUS 7 - Certificate of Completion
> For your LinkedIn profile and in job interviews
worth €20,-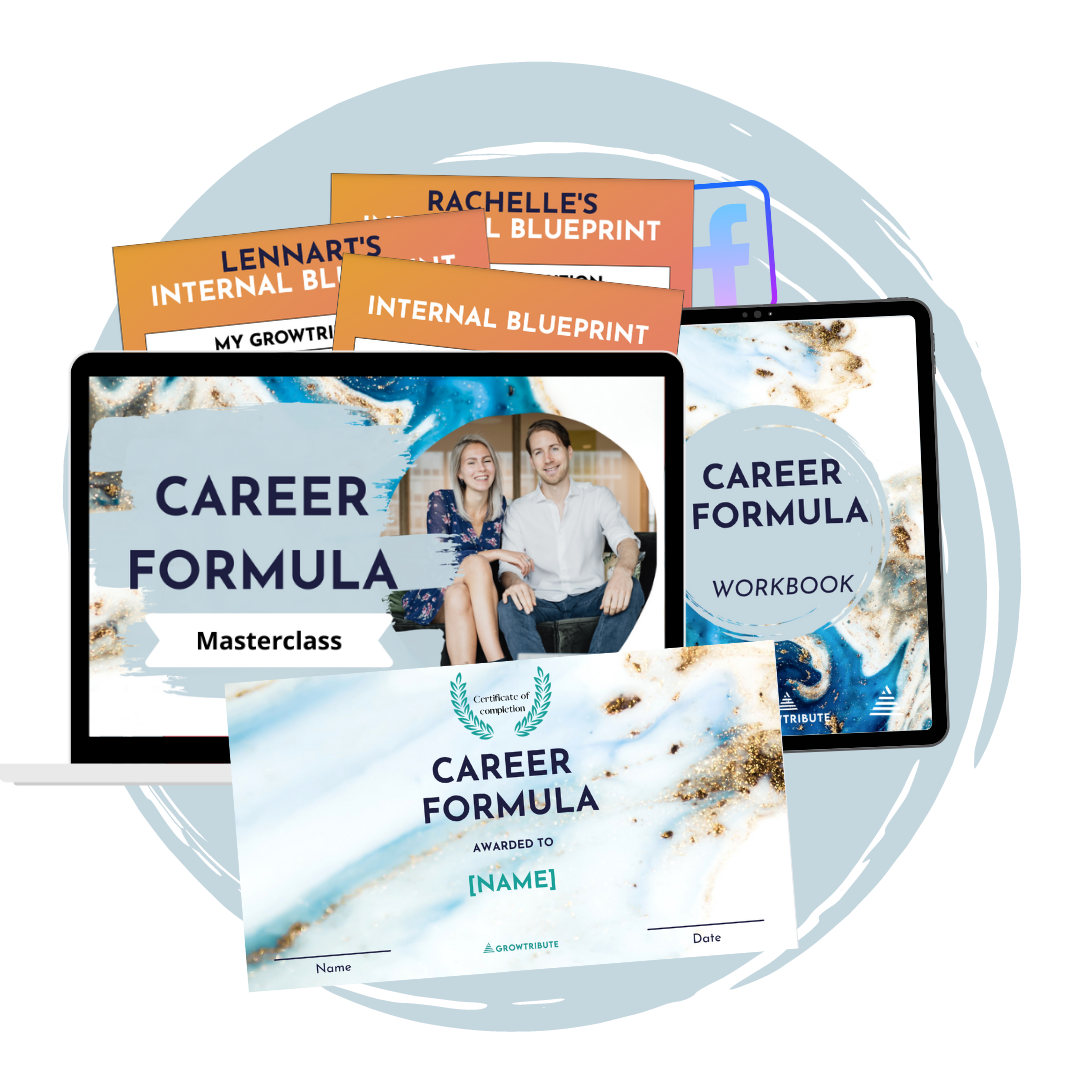 Career Formula


one-month online course

We've been there ourselves...

We're Rachelle & Lennart, life & business partners.
Lennart was an aspiring lawyer when he realized he wanted something totally different. He went on to lead sales teams at a software company, where he missed a mission. Next, he helped to launch an entrepreneur network, but he didn't get along with his boss. Finally, he became his own boss and co-founded a wildly successful startup...only to find out that technology wasn't really a passion after all.
Rachelle hated her theoretical studies and started her own marcom business at 20 to gain 'real' experience. As she started her master's she realized it only slowed her down. Soon she quit and started freelancing as a project manager and event moderator. Time after time she landed in toxic work cultures, experienced abnormal stress from office politics, hidden agendas, and misaligned values.
The mainstream career didn't work for us. We went back to the drawing board and totally redesigned our careers from the inside-out. Now we do what we love, from an amazing location (sunny Portugal!). Our clear reason why: giving others the career guidance we never had so they can lead awesome & impactful lives.
Forget traditional job and soul searching.
Uncover your dream career within 1 month.


10 Modules | 30 Videos | 19 Tools | Renewed 2021 Version | At your own speed
For Professionals | Entrepreneurs | Graduates | Job Seekers
#1 Warm Welcome

Introduction, about Lennart & Rachelle, what to expect, results/outcomes, and tips for success.
#2 Your Starting Point

If you can't be happy with what you have, what you'll gain won't satisfy you. Including gratitude, pride, and a quick scan.

#3 Ideal Environments

We all have our ideal environments in which we thrive, also work wise. We'll find yours!
#4 Strengths & Geniuses

About the different zones of strengths (and which ones to avoid) and what your ultimate strengths are.
#5 Passions & Deep Interests
Beyond the buzzword. You'll walk away with your biggest passions & deep interests, that you almost forgot you had.

#6 Core Values

Pinpointing your values has almost become cheesy nowadays with those open-door lists of words. We will get the randomness out of this process.
#7 Contribution & Purpose
Your why is your magic flavor. Yet, everybody talks about it, but not a lot of people know theirs. Find your deep-felt purpose and start contributing!
#8 Career Formula
This is where everything merges in one type of work where everything 'clicks'. It's the direction of your career that will bring you maximum fulfillment, added value, and joy!
#9 Internal Blueprint & Alignment
We will double-check your Blueprint and your Formula. End result: a one-pager you want to SEE - keeping you on track on a daily basis.
#10 Graduation
Looking back, reflecting and a post-measurement to see your progress.
"Growtribute gets you to think about yourself, your passion, what you like, what you strive for, all that. It was a really difficult time, because you had to challenge yourself everyday again to go deep. And actually, we were quite occupied thinking about all this outside of the course too! So while you are not actively working on the modules, but just while driving the car. I learned a lot about myself. I'm not quite there yet. I still have to set the next step, but I will go through all the assignments again in the coming weeks! The communication & organization of the course were great. It was really great talking to the other participants too. I liked it a lot, thanks!"
– Lucas
Found a more suitable, energy-giving job 6 months after the course
"During Career Formula, there was a lot of self-reflection and I soon noticed that I had a passion for things like being in nature and helping others. After a conversation with Rachelle, she pointed me to the field of walking coaching. The idea of my own coaching company quickly became reality: my company "Coach't" was born. Now that I have a clear direction for myself and I practice my profession with passion every day, every day seems to be getting more fun! I have experienced the course as very valuable and eye-opening and will recommend it to everyone!"


- Jessica
Created her own business 3 months after the course
"After three different adventures in different environments and different jobs, this April I left my previous position and I came in the middle of the Covid crisis. I hadn't been able to find a job I was looking for and I also didn't know what direction I wanted to go. I took the time to think about this, explore different directions, talk to different people. It was, of course, a bit difficult due to the situation. After a few weeks of doing this, I realized I didn't actually have the tools and the strategy on how to find a career that actually fitted me. This is EXACTLY what I found in the Growtribute course Career Formula. It really gave me the tools and the strategy to convert my raw vision into a concrete template."
- Constantijn
Went from the startup scene to IT/Tech consulting after 4 months
Whether you want a complete career switch, become an entrepreneur or just understand what you really want in your work life 🔥🥊
Frequently Asked Questions
It sounds like so much work... Is it?
What is the minimal knowledge/experience required to follow this course?
How is this course different from career coaching or career help tools?
Is it passive listening or practical & interactive?
English is not my native language - is this a problem?
I haven't started working yet. Is this for recent graduates too?
When does this start? Do I need to wait?
What if I'm not satisfied with the course?
Career Formula


one-month online course